Equal parts Beauty and Beast, the new Rolls-Royce Dawn is an astounding automotive achievement. With its captivating, bold look and a 6.6-liter V12 behemoth engine under its hood, this exotic convertible is as invigorating as it is alluringly gorgeous.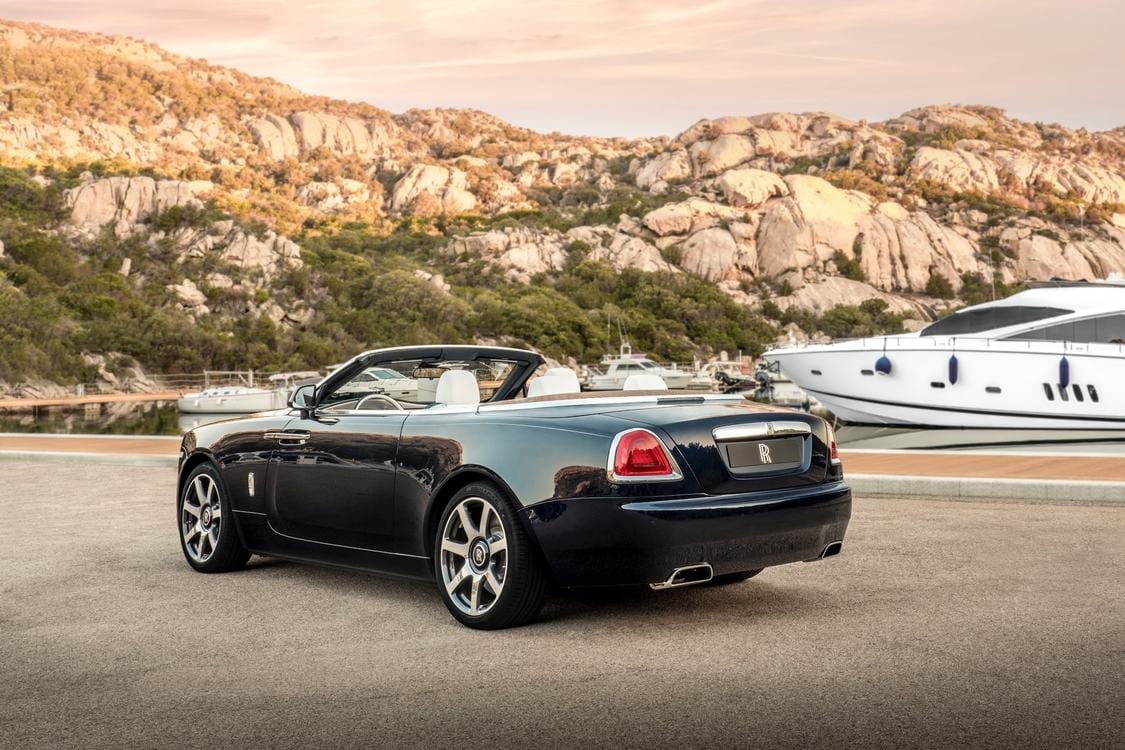 Available for sale at a Rolls-Royce dealer near you, the 2020 Dawn convertible is an undeniable, bespoke masterpiece that stimulates the soul.
Engine & Performance
The 2020 Dawn Black Badge pushes the boundary between "possible" and "impossible" thanks to its impressive 6.6-liter V12 powerplant. The direct-injection engine produces a vicious 593 horsepower and a flabbergasting 620 lb.-ft. of torque, allowing the Dawn to hit a top-end speed of 155 mph. (The entry Dawn model produces 563 hp and 605 lb.-ft. of torque.)
0-60 MPH in 4.8 Seconds
From a dead stop, the 2020 Dawn roars to 60 mph in just 4.8 seconds – Car and Driver pushed the new Dawn from 0 to 60 mph in 4.3 seconds – making it one of the quickest exotic convertibles around.
GPS-Guided 8-Speed Transmission
There's nothing ordinary about Rolls-Royce Dawn's 8-speed automatic transmission. The high-tech system utilizes a built-in GPS system to identify the right gear-shift intervals based on your location, elevation and upcoming road obstacles (e.g. sharp turns or rocky terrain).
Helping the unique 8-speed gearbox is a self-leveling suspension that acutely reacts and tunes to road conditions. The result is a smooth, graceful, utterly tranquil ride in which road bumps and potholes are but a mirage.
Handling is pinpoint precise, specifically in the 2020 Rolls-Royce Dawn Black Badge model. It features a steering rack that's quick to respond to motion, larger brakes, and a refined throttle. There's a deliberate and well-pronounced polish to everything Dawn does.
Interior & Features
Like every world-class Rolls-Royce vehicle, the Dawn's interior is pure 4-seater bliss. Opening the rear-hinged door, you're invited directly into a private, first-class cabin with more gizmos and gadgets than the eye can spot. (Who needs a destination when the 2020 Rolls-Royce Dawn can be your sanctuary?)
Silent Fold-Away Convertible Top
Ah! The wind! With Dawn's single-touch convertible top, you're just seconds away from that cherished open-air experience. The roof silently folds back and retracts at the push of a button. An equally elegant layer of luxe leather trim outlines the rig, helping to redirect airflow.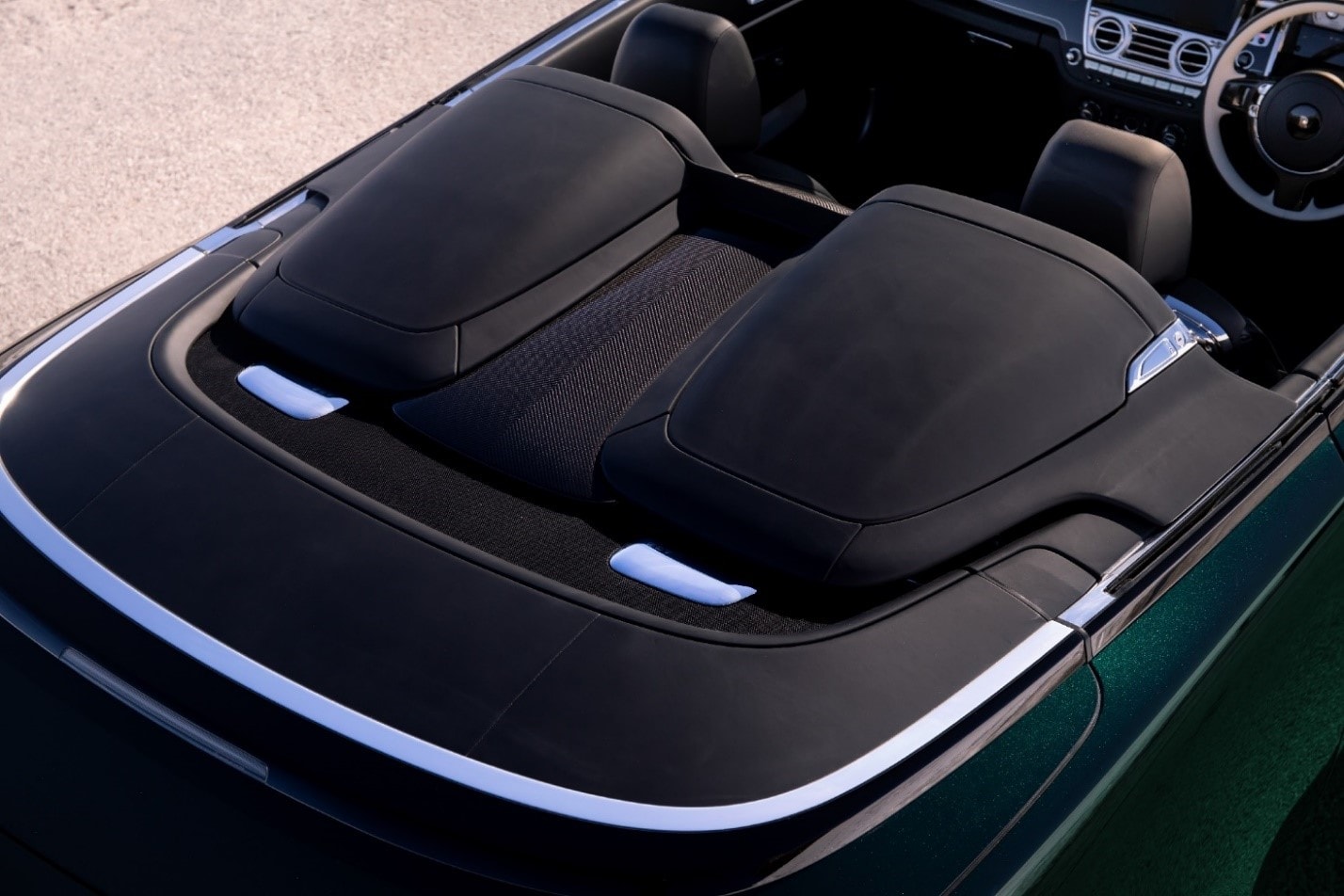 Rolls-Royce engineers didn't stop there; Dawn's Aero Cowling, which acts as an extended tonneau cover, transforms the 4-seater car into a semi-makeshift two-seater convertible. Dynamic in all respects, the Cowling encloses the back row in a handmade covering, giving the Dawn even more of an aerodynamic finish. The cover, which is comprised of leather, ultra-lightweight carbon fiber and a touch of aluminum, can be fitted and removed in mere moments.
Best of all, when you build a Rolls-Royce Dawn, you're given a bespoke canvas on which to work. Choose any number of colors and details to adorn your Aero Cowling. Contact our Miami Rolls-Royce dealership to learn more.
Infotainment with TV Tuner
Every Dawn comes standard with an infotainment system that can be hidden behind a panel. The 10.25-inch infotainment touchscreen also features voice-activated navigation with real-time traffic, SiriusXM satellite radio, Apple CarPlay connectivity, and more.
Curious Dawn owners can even design their convertible with an optional TV Tuner for passengers to watch the tube while away from home, as well as a Wi-Fi hotspot.
Bespoke 18-Speaker Sound System
Delivering pure, high-fidelity sound that's rich in tone, Dawn's customizable 1300W stereo amplifier and audio system are essential out-and-about tools for South Beach-goers. Even without cranking the volume to 11, the sound system minimizes outside noise.
Safety Features
The new Rolls-Royce Dawn includes several driver-assist and safety features to protect all occupants (and even those non-occupants), including the following:
Surround-view camera
Adaptive LED headlights
Active Cruise Control with Curve Detection
Rain-sensing windshield wipers
Head-up display
Automatic high beams
Lane-departure alert
Night-vision camera
Front and rear parking sensors
The Spirit of Ecstasy controller
An Idyllic Cabin
Impressive features abound inside the impressive 2020 Dawn convertible. Options include massaging seats, Comfort Entry System, a hands-free smart trunk, quad-zone climate controls, heated and ventilated front seats, and more.
Want your Dawn to look like a 1950's convertible, complete with open-pore wood? Or would you rather a more modern, contemporary vehicle? Essentially, if you can dream it, your Rolls-Royce Bespoke dealer can make it a reality.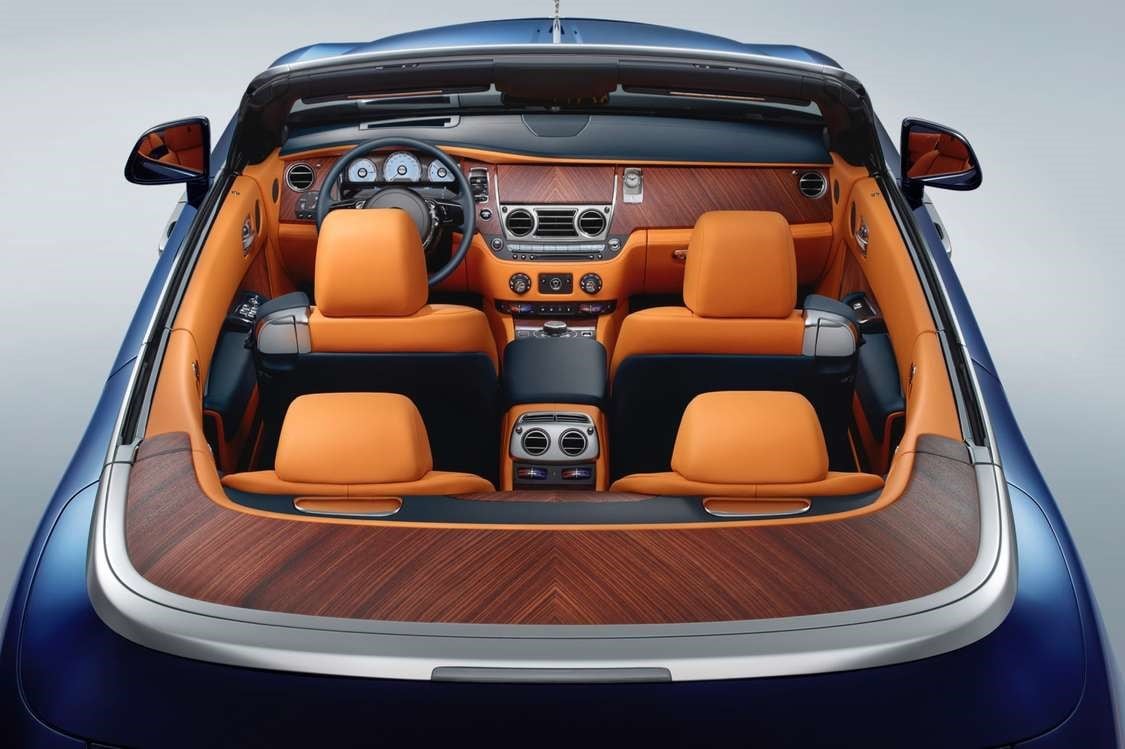 What about aesthetics? Natural Grain leather seats. Hand-cut Walnut Burr veneer trim. Canadel Paneling, lambswool floor mats, and Mandarin Orange accents: Practically every stitch and seam of this Rolls-Royce convertible is as seductive as you allow it to be.
Rolls-Royce Dawn Convertible & Black Badge Price
Pricing for the 2020 Dawn convertible and Dawn Black Badge models are contingent on packages, features, and any touches of bespoke wonderment you add. Contact our South Florida exotic car dealership at 786-577-5228 to begin building your 2020 Rolls-Royce Dawn or learn more about any of other new Rolls-Royce models for sale.
This is your moment. Seize it.