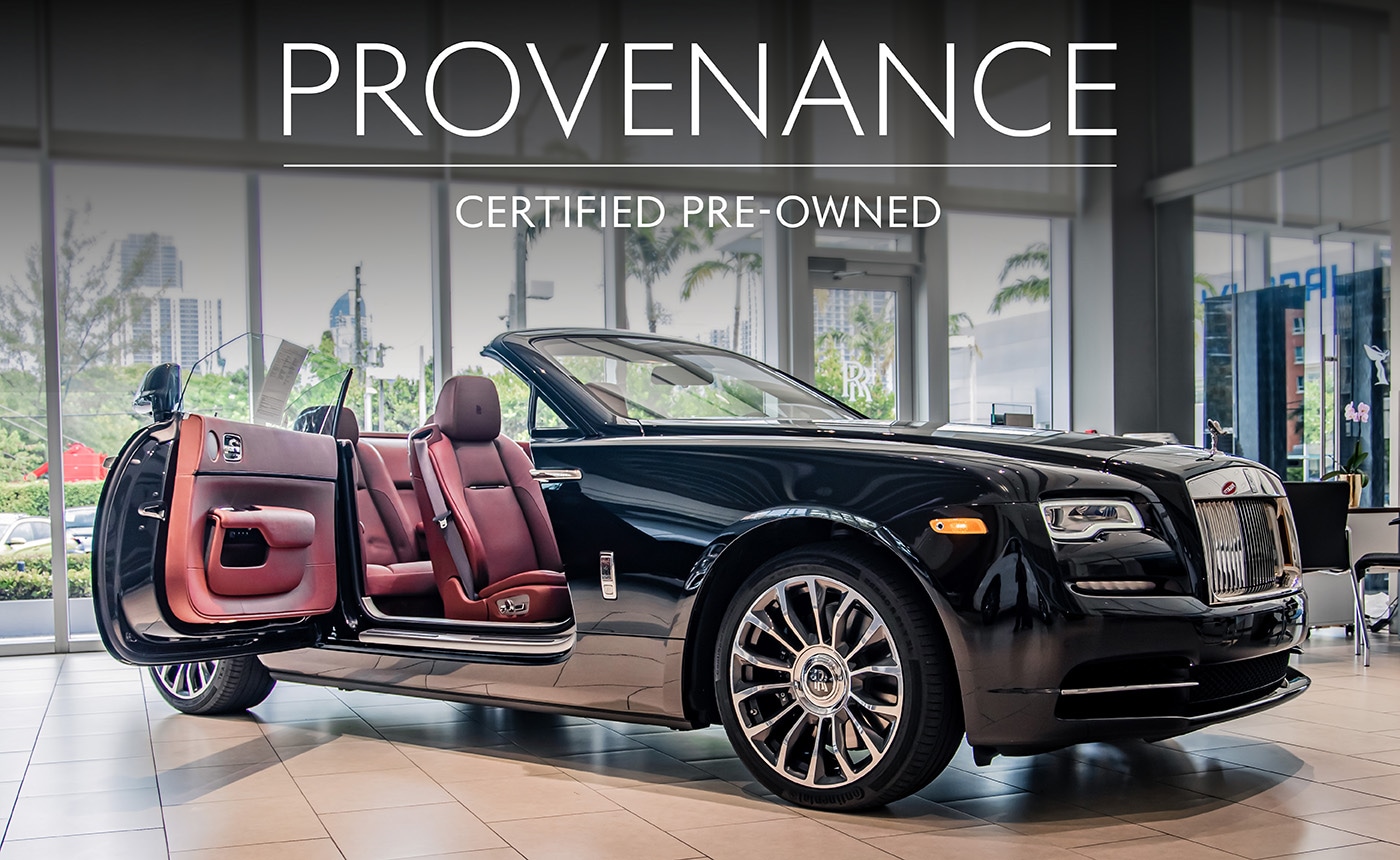 A LEGACY ENTRUSTED,
A LEGACY CONTINUED
Provenance is our collection of certified pre-owned motor cars, each with its own rich history. Crafted to live many lifetimes, Rolls-Royce motor cars only become more alluring with time, as ownership passes from one patron to another, and the story flourishes on.
FOR THOSE IN SEARCH OF A MASTERFULLY CURATED SELECTION
Regardless of age, each Provenance motor car is a masterpiece unto itself, personally selected by the Rolls-Royce team. We demand that our collection be flawless in form and impressive in nature. By upholding a discerning attitude, we ensure that legacies are preserved for generations to come.
FOR THOSE WHO VALUE QUALITY ABOVE ALL ELSE
Before we award the Provenance title to a certified, pre-owned Rolls-Royce, it must be thoroughly trialed and tested against our legendary standards. Each selected car undergoes a comprehensive, 360 degree inspection and is exhaustively detailed with a written record of its full history before being labelled as certified. As a Provenance owner, you will experience a Rolls-Royce that drives as beautifully as it did the day it was originally released from Goodwood.
BE PART OF THE LEGACY
Just like the cars themselves, there are financing options available from Rolls-Royce Motor Cars Financial Services that follow the Bespoke philosophy. The approach to your financial selection will be unique, effortless and personalized, through the dedicated Concierge service who will be available to assist at every stage of your acquisition.
FOR THOSE DESIRING RAREFIED ACCESS
A Rolls-Royce motor car opens the door to a new way of living; one rooted in the extraordinary. The acquisition of each Provenance car grants patrons with access to Whispers — our private members club and digital extension of the marque, offering the world's most rarefied products, services and ideas.
FOR A TRULY BESPOKE EXPERIENCE
Tailor your Provenance motor car by selecting from a breadth of available Bespoke features. Embroider your headrests with the family crest. Befit the roof with a mesmeric Starlight Headliner. Or reimagine the Spirit of Ecstasy in a precious metal of your choice. Your every last whim can be realised when working alongside our Bespoke artisans.
ALL ROADS LEAD BACK TO GOODWOOD
Protect the integrity of your Provenance motor car by opting for aftercare services by expert technicians trained at Goodwood, the Home of Rolls-Royce. All Provenance vehicles receive up to two years of servicing, warranty, and roadside assistance. And all repairs and refurbishments are carried out using Rolls-Royce Genuine Parts.