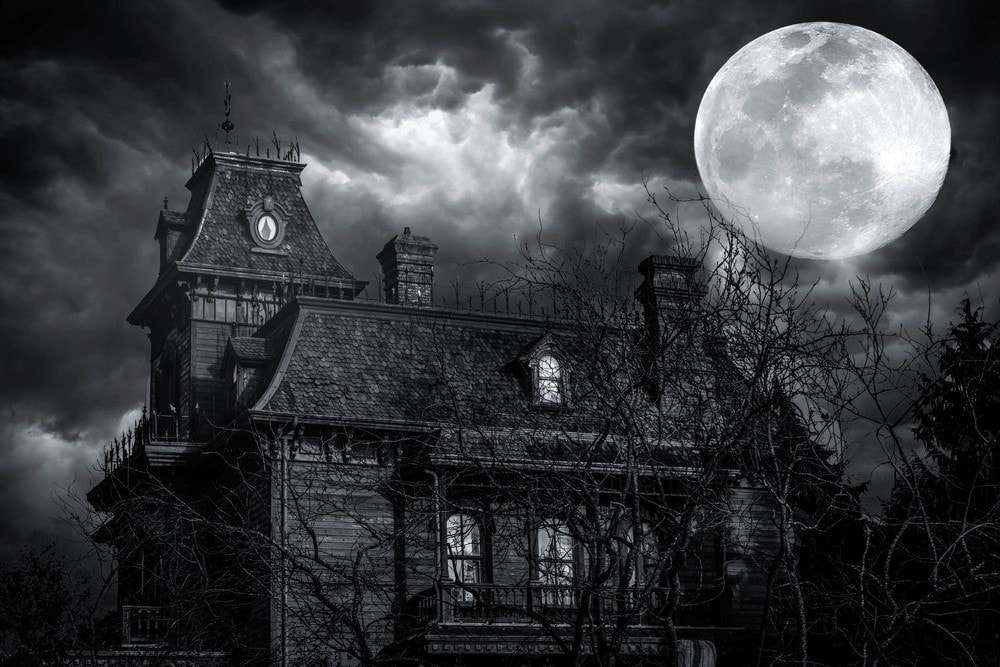 Halloween is here! In addition to local trunk-or-treats, going door to door for candy, and carving pumpkins, there's one more October activity waiting for you: Haunted houses. It's where you'll confront your biggest fears – enclosed spaces, clowns, rats, snakes, clown snakes, whatever you're scared of – and leave with your body intact (probably).
If you're looking for a scare this Halloween season, South Florida's got some creeptastic haunted houses to get your blood pumping. These are our picks for the scariest, totally not kid-friendly attractions of 2021.
1. House of Horror Haunted Carnival – Doral, FL
The fan-favorite House of Horror is a scary haunted carnival that features 4 unique attractions: Mall Mayhem, Toxic Apocalypse, 1455 Asylum, and Scare-X, the ultimate immersive Halloween experience.
2. Enigma Haunt - Boca Raton, FL
Attractions include the carnival-themed Twisted Mayhem, the Cursed swamps, and the Realms of Terror hell house.
3. Fright Nights – West Palm Beach, FL
Three haunts are available at Fright Nights (in the South Florida Fairgrounds): Fatal Fables, Curse of the Siren, and the infamous Red Room.
4. The Horrorland – Aventura, FL
One of the first drive-thru haunted houses in South Florida, this Aventura attraction takes 30 minutes to drive through.
5. No Way Out Haunted City – Miami, FL
The haunted attraction No Way Out features three scary haunted houses in Miami: Sleep Paralysis, Insomnia, and Infected (laser tag with zombies). There's also a Not So Haunted maze for younger kids.
6. Paranoia Horror Maze – Miami, FL
The only Miami haunted house on this list open all year long, Paranoia Horror Maze offers scares at every pitch-black turn.
7. House of Death – Miami, FL
Enjoy this disturbing 15,000-square-foot Halloween maze and test your limits at the Wynwood Cemetery.
8. Tormented Trails – Davie, FL
Take a terrifying hike through the haunted trails in Davie.
9. Halloween Drive & Scream – Miramar, FL
One of the only family-friendly haunted houses on this list, Miramar's Halloween Drive & Scream is a drive-thru attraction that features six different haunts: Carnival Creeps, Shawshank County, Graveyard Shift, Morgue of Misery, Screaming Dead, and
Día de los Muertos.
REAL Haunts & Abandoned Places in South Florida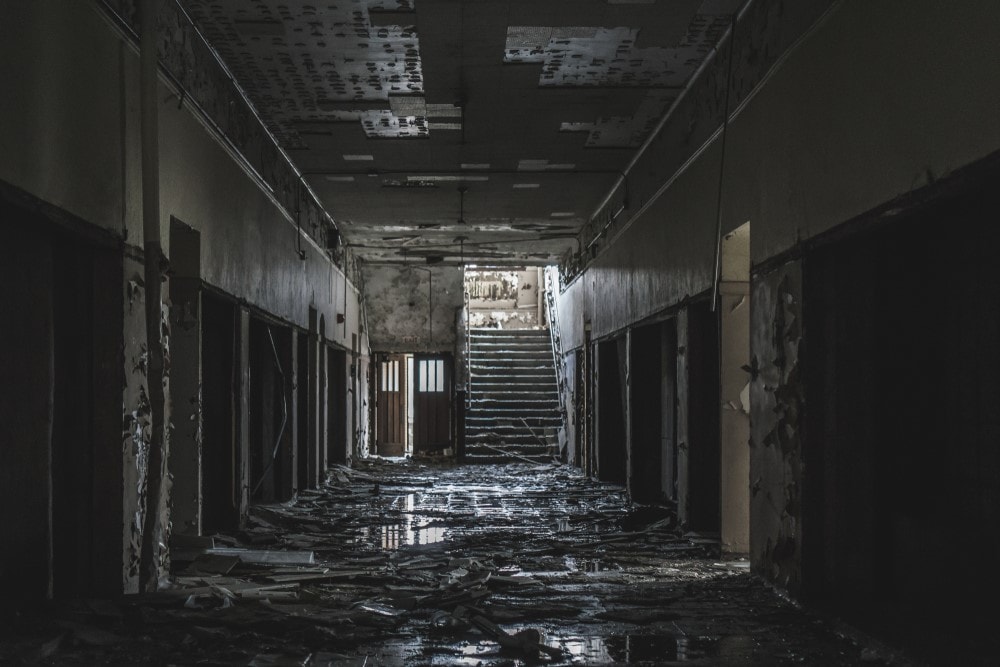 Sure, one might get creeped out at the House of Horror or even the kid-approved
Haunted Circus Miami
, but those aren't
real
scares. Everyone knows that chainsaw guy's fake, even if our heart rate tells us otherwise. For authentic, freaked-outta-your-socks terror, one's got to live outside the box – so outside the box that they're
abandoning
the box entirely. (Get it?)
Of course, we're talking about abandoned, maybe even potentially haunted locations around South Florida. From ghost-loitering hotels to deserted amusement parks to shuttered mansions, these are the types of goosebump-raising, spine-tingling, bone-chilling places depicted in horror films. They will, quite frankly, give any sane person the willies.
Except urban explorers, the people whose hobby it is to explore the creepy ruins, dilapidated structures, and neglected hospitals of which nightmares are made. So, let us raise a glass and toast those courageous few who risk life and limb to ensure there's source material for the next Paranormal Activity. These are the spookiest, creepiest and scariest buildings and haunts near Miami.
*Disclaimer: Many of these places are condemned and dangerous. Most are also privately owned, so please do not attempt to visit without approval from the property owners first. Trespassing is against the law! Read more about getting permission to urban explore here.
Parkway West Regional Medical Center
Unlike nearby Miami Marine Stadium, the area's once-abandoned arena that is now in the
midst of being rebuilt and revitalized
, Parkway West hospital is still a deserted eyesore to Miami Gardens residents. Built in 1972, the 11-story medical facility has seen its share of
grisly events
, including a
1998 murder
in the psychiatric ward, which ultimately brought upon the building's closure in 2002.
Now, in its current state, Parkway West is a deteriorated, dangerous mess. Graffiti is scattered up and down the hallways' walls. Ceiling tiles have rotted away, leaving trails of dust and debris throughout the facility. Parts of old medical equipment litter the rooms. Some say the 7th floor, home to the hospital's old psychiatric ward, is haunted by ghosts of ex-patients and doctors.
Old Pahokee High School
Abandoned in 1998, after a new school campus was built, Pahokee High was boarded up and left to slowly decay. Now water damaged as a result of numerous hurricanes and the humid South Florida climate, the old high school juxtaposes the relatively new and modern urban sprawl of its surrounding buildings. Still, it was honored with a posting on the list of National Register of Historic Places.
North Dade Detention Center
For four decades, the North Dade Detention Center, better known as the Dade County Jail, served the local Miami community as a prison and work release center. However, the jail became infamous for mistreating its mentally ill inmates in the psychiatric ward, and the US Department of Justice forced it to close in the 2010s.
Today, the abandoned property is fenced off to deter trespassers, though urban explorers occasionally venture inside to take footage of the facilities.
Charlotte Jane Memorial Park
Residents of Coconut Grove, FL, have a public Halloween treat in their unique
Charlotte Jane Memorial Park
cemetery. The cemetery, which is rumored to be the filming location of Michael Jackson's "Thriller" music video, is one of the only in the state to have above-ground burials and crypts. This graveyard gets especially creepy at night, when you can almost hear wails coming from the tombs.
Villa Paula
Supposedly haunted by the ghost of Paula, Cuban Consul Domingo Milford's one-legged wife, this beautiful villa was bought and sold a handful of times since the 1920s.
In 1974, Cliff Ensor purchased the home and had numerous psychics assess its poltergeist activity, which led to five so-called confirmed hauntings, including that of Paula Milford. Over time, the mansion lost its value – that's what happens when buyers believe a home is haunted, we suppose – and wasn't sold again until 2003.
Since then, it's been renovated and restored to its neo-classical French roots, serving as one of Miami's emergent art galleries and performance theaters. But when you're alone in its hallways, you can almost sense the ghost of Paula floating from room to room. Spooky stuff.
Other Supposedly Haunted Places in South Florida
The Biltmore Hotel – Legend has it, ghosts inhabit the Coral Gables hotel's infamous 13th floor.
The Deering Estate – The 444-acre preserve in Miami was built on "Indian burial grounds," which has never worked out well for protagonists in horror films.
Fort East Martello Museum – Is it cursed by the museum's 4-foot-tall doll, Robert?
Glades Correctional Institution – Closed in 2011, this abandoned Palm Beach jail is said to be haunted by prisoners who met dubious fates while incarcerated.
Stiltsville – You can take a boat out to see the collapsing homes in the surreal open-sea community Stiltsville.
Homestead Seaboard Air Line Railway Station – Boarded up in the 1960s, this South Florida train station makes for a great, albeit spooky, photo backdrop.
Pahokee Hospital - This abandoned hospital in Pahokee is as creepy as you can imagine.
About Rolls-Royce Motor Cars Miami
Our
exotic car dealership near Aventura
is your source for new and
used Rolls-Royce models
, including the
Cullinan
and
Phantom
, as well as
Rolls-Royce auto service in Miami
. Please
contact our team
at (786) 577-5217 to learn more about our dealership, request a quote, or schedule an appointment to speak with our sales staff.