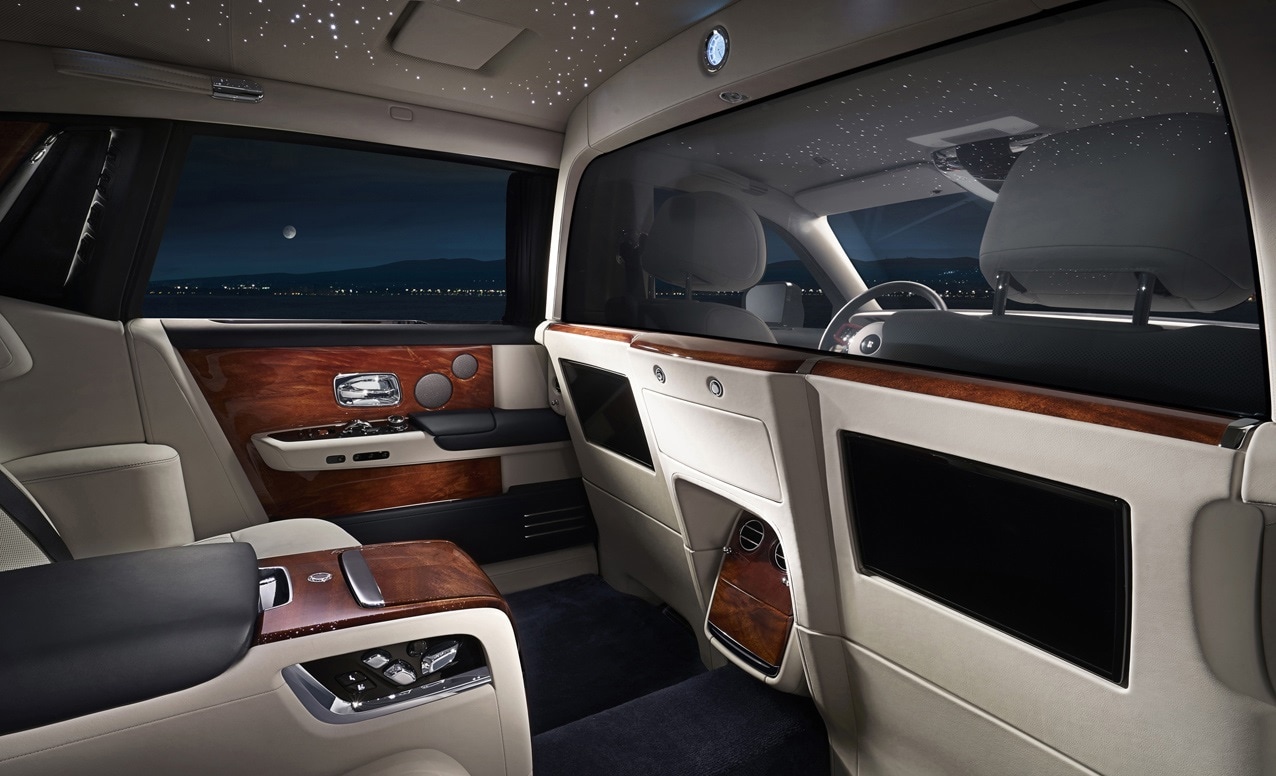 As the epitome of ultra-lux motoring in South Florida, the magnificent 2021 Rolls-Royce Phantom is the preferred super-luxury conveyance of Miami's discriminating chauffeur-driven elite.
As we detailed in our recent blog introducing the outrageously opulent 2021 Phantom, there is a multitude of reasons why the crème de la crème of South Florida's social, entrepreneurial, and celebrity pantheon embrace the Phantom's glorious and iconic Pantheon front grille as the emblem of deluxe chauffeured motoring.
Far from the Madding Crowd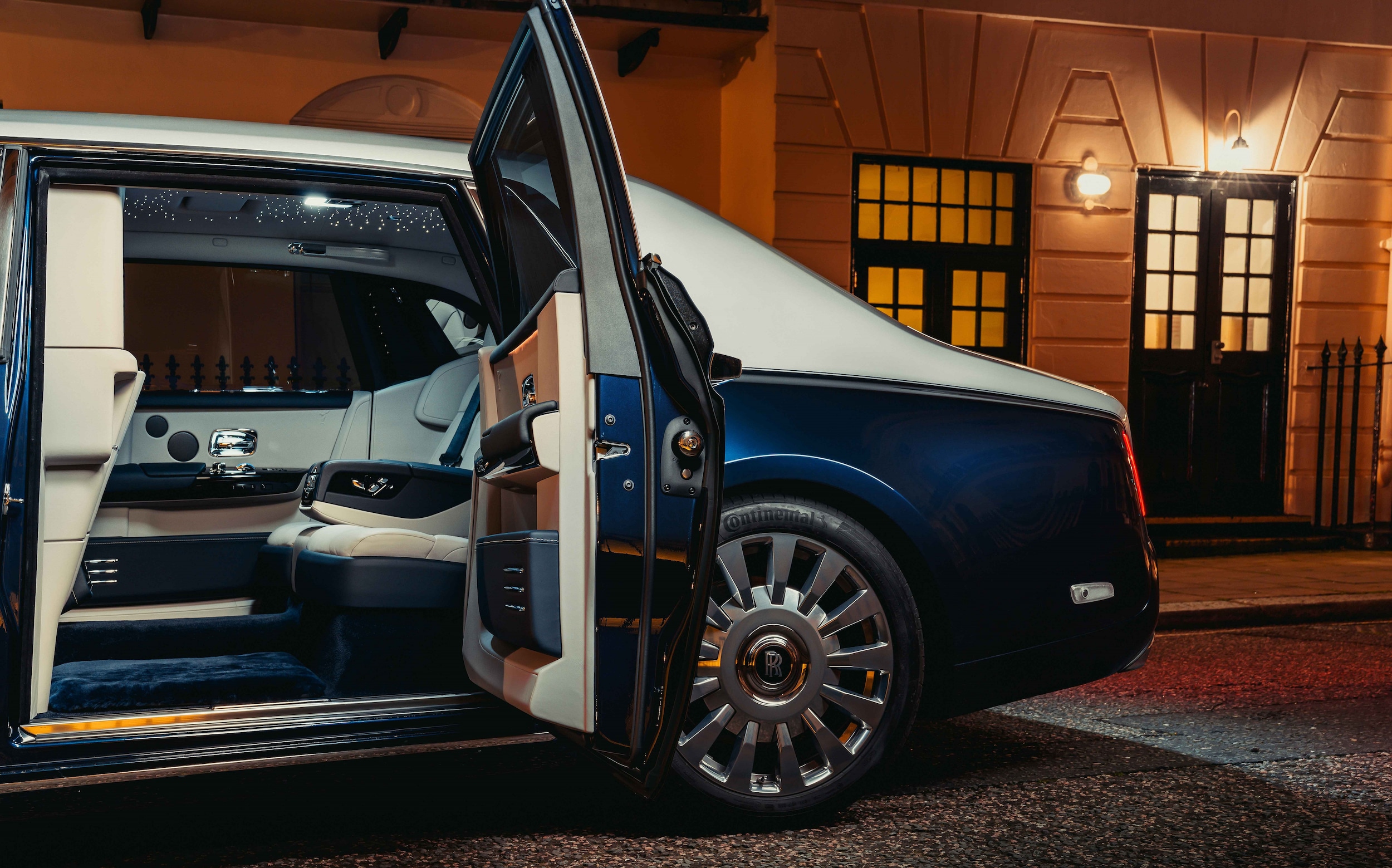 We live in a world bombarded by a cacophony of noise, inflamed by the dissonance of public opinion, assaulted by the prying eyes of millions of smartphone cameras, and pursued by the relentless onslaught of Paparazzi. Thus, the ability to luxuriously convey oneself from point "A" to point "B" in complete privacy and anonymity has perhaps never been a more cherished, appreciated, and desired luxury commodity of supreme value.
For those who demand the ultimate in chauffeur-appointed luxury and privacy we are, therefore, pleased to announce the new Phantom Privacy Suite, now available on the new 2021 Rolls-Royce Phantom for sale in South Florida at Rolls-Royce Motor Cars of Miami.
Setting A New Standard of Peerless Privacy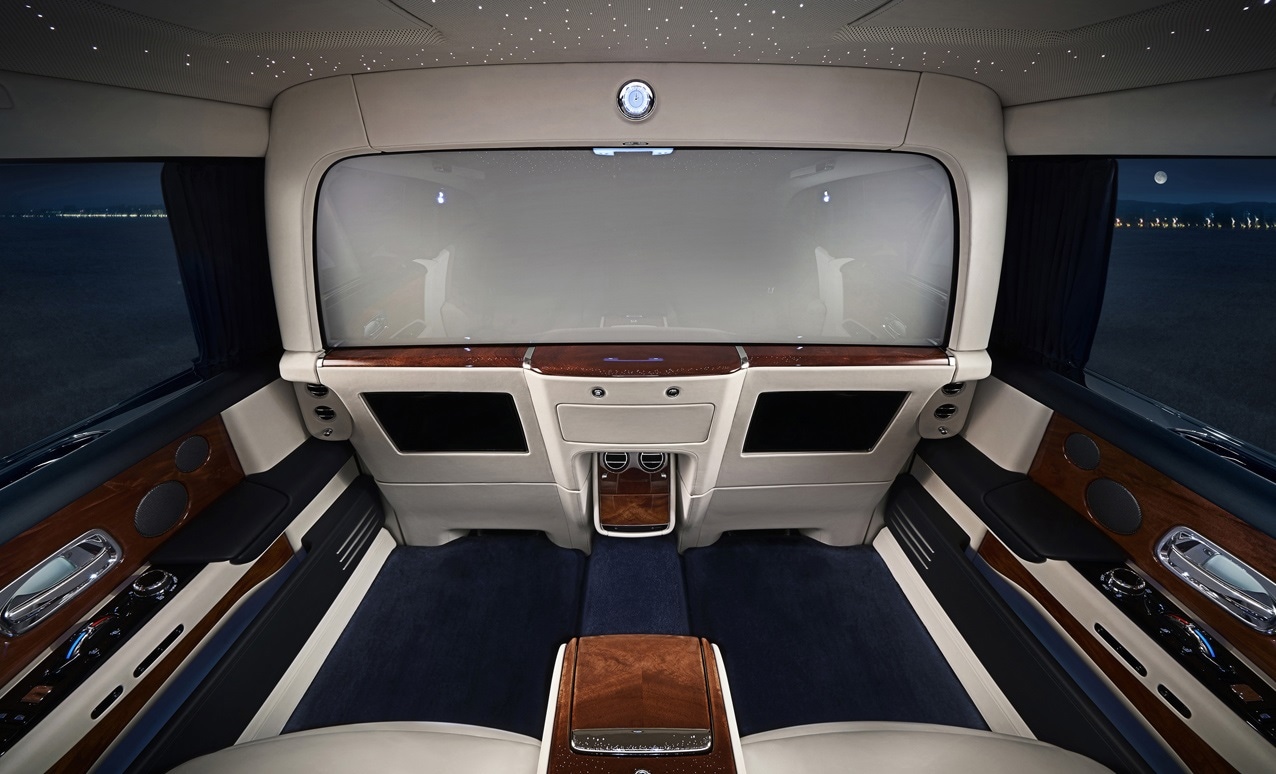 The Phantom Privacy Suite creates an indulgent, supremely quiet, and utterly discrete personal sanctuary that enfolds rear passengers in a cocoon of superlative luxury where the intrusions of the outside world are held at bay.
Key features of the Privacy Suite include:
An acoustic oasis of whisper-quiet silence and serenity.
Innovative electrochromatic glass between the rear passengers and chauffeur that instantly creates an environment of total isolation and privacy.
A crystal-clear intercom system that allows rear passengers to easily communicate with the chauffeur.
A technologically advanced and full-featured rear theatre entertainment and connectivity system with two high-definition, 12-inch monitors.
A convenient aperture that allows documents and objects to be easily passed between the front and rear.
Let us delve into these several key Privacy Suite benefits in greater detail.
The Sounds of Silence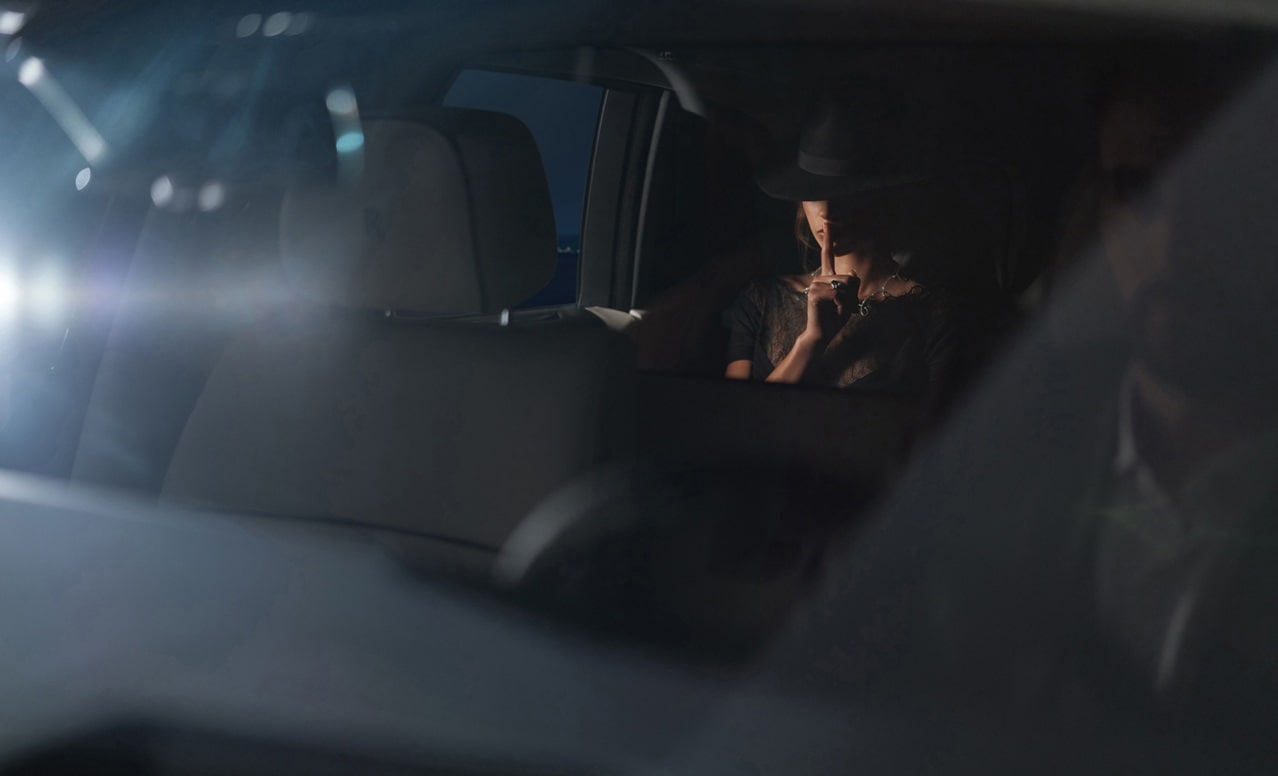 The Rolls-Royce Phantom already has an enviable and historic reputation as the world's quietest luxury automobile. Rolls-Royce engineers have, nevertheless, taken the Phantom's legendary whisper-quiet ride to the next level by crafting the Privacy Suite with additional acoustic sound-deadening materials and frequency-specific compounds to create a hushed environment where the sound of silence is the only thing one hears.
Instant Privacy On Demand
The Phantom's unique electrochromatic glass separating driver from rear passengers is truly a technological marvel. Passengers can either enjoy the vistas ahead or press a button and instantly turn this magical glass partition totally opaque.
For the pinnacle of seclusion from outside view, power-operated privacy curtains completely obscure the rear side windows. A rear window fitted with equally obscuring opaque privacy glass completes this ultimate sanctuary from public view.
Convenient Two-Way Communication
The Phantom Privacy Suite's advanced intercom system allows clear and instantaneous communication between passengers and driver by simply pushing a button. The driver can also initiate communication with rear passengers by pressing a "Call" button. Passengers have the option of accepting or rejecting the request.
A Tour de Force of Technology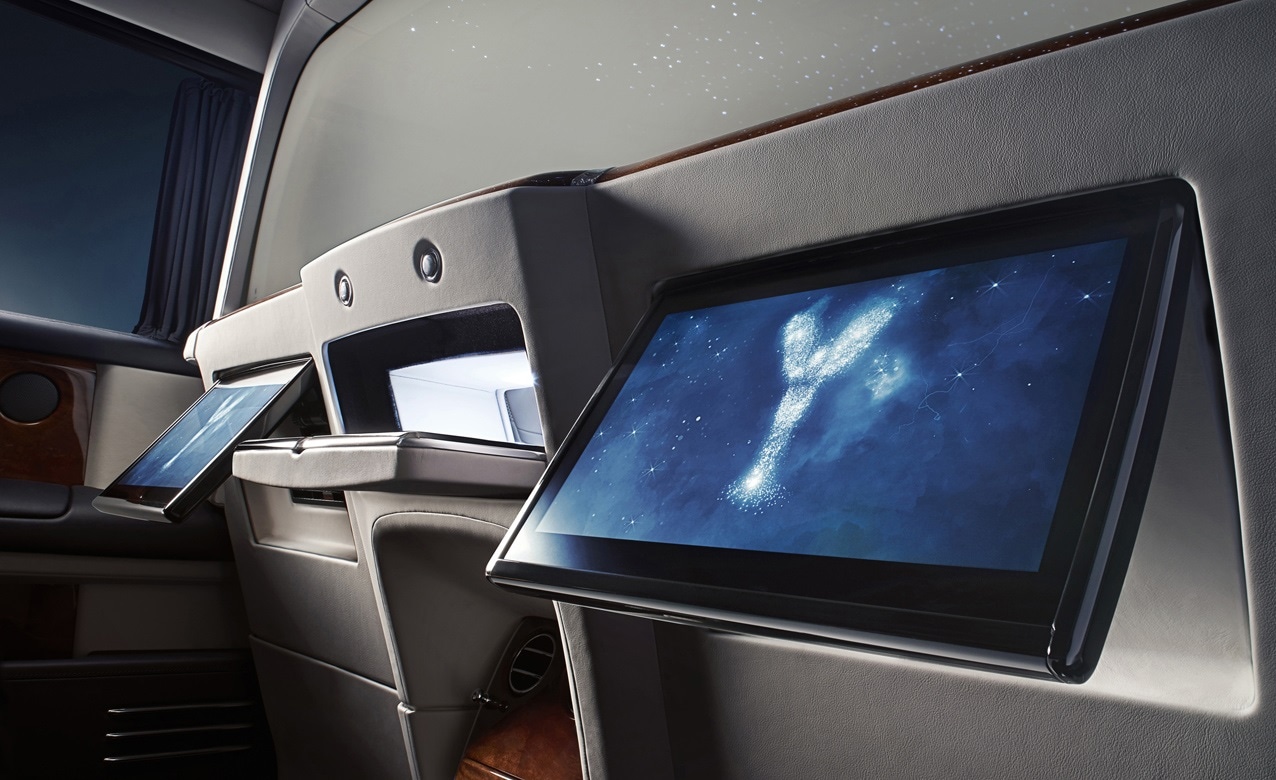 Rear passengers will also enjoy superlative connectivity and infotainment features that offer the ultimate high-tech capabilities for either work or personal enjoyment. These features include:
Two high-definition, 12-inch monitors linked to the vehicle's fully connected software allowing for viewing of presentations, live events and broadcasts, and an array of entertainment options.
Both an HDMI and a USB port allow passengers to connect and display information from their personal devices onto the 12-inch monitors.
A 20-gigabyte, onboard hard drive allows passengers to transfer and store audio files via the USB port.
An expansive rear center console that contains controls for operating these various connectivity and infotainment functions.
Pass-Through Portal
A convenient, illuminated aperture permits the passing of documents and other items between the front and rear. Rear passengers can control whether to open or close the aperture, further ensuring their privacy.
The Quintessential Limousine Experience.
For discriminating buyers who demand the highest degree of personal privacy, there can be no doubt that the Phantom's bespoke, hand-crafted Privacy Suite affords the ultimate in sequestered luxury motoring.
The Rolls-Royce Phantom also offers unique, ultra-lux appointments that are de rigueur for the quintessential limousine experience. For example, rear passengers will enjoy the stellar beauty of the Phantom's sparkling Starlight Headliner that twinkles with a constellation of more than 1,300 sparkling LED lights that both illuminate the imagination and soothe the soul.
The Privacy Suite is also equipped with a rear Champagne cooler complemented by bespoke crystal Champagne flutes of the highest quality.
Enduring. Extraordinary. And Exceptionally Private.
This is, after all, a Rolls-Royce Phantom. As the flagship of the storied Rolls-Royce marque, it is the enduring embodiment of Old-World craftsmanship and New World modernity. Impeccably handcrafted. Extraordinarily luxurious. A triumph of aristocratic grace and boundless V-12 energy. The brilliant culmination of the luxury automaker's art. A tradition of exceptional craftsmanship echoing through the ages. Now equipped with the ultimate achievement in sophisticated and total privacy for those who demand the very best in unparalleled, chauffeur-driven luxury transportation.
Say Hello to Your Uber-Private Rolls-Royce Limousine in Miami
As South Florida's premier luxury car dealership, we look forward to helping you commission and build your Rolls-Royce Phantom Limousine for sale in South Florida, now with enhanced Privacy Suite features. Let an experienced member of our Rolls-Royce Motor Cars Miami team help you begin the journey of privileged Rolls-Royce ownership.

Contact our Miami Rolls-Royce dealership at 786-577-5217 to learn more about the new Phantom Privacy Suite, as well as a wide range of available bespoke and customization options for Rolls-Royce's flagship luxury motor car. Our Miami luxury car dealership is located at 2060 Biscayne Blvd, Miami, FL 33137 serving the nearby communities of Aventura, Hollywood, Coral Gables, and Fisher Island.