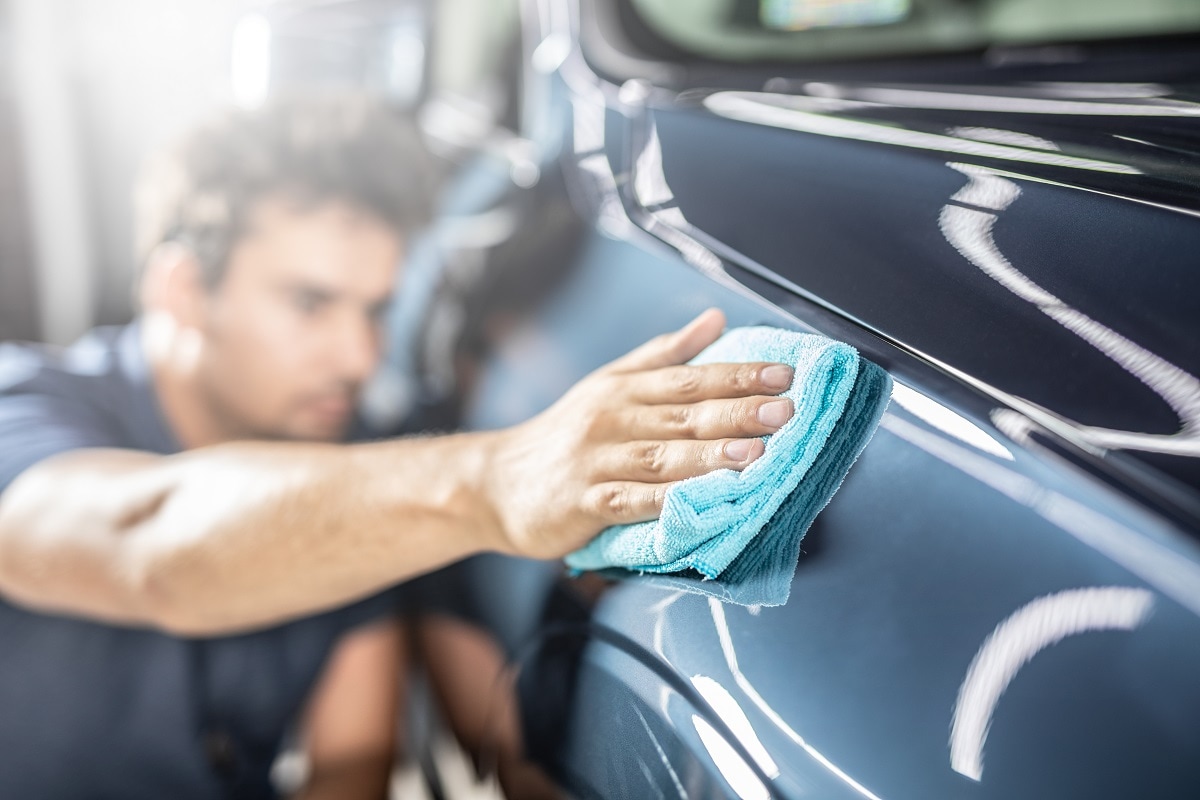 Your
Rolls-Royce Phantom
-- or whatever luxury vehicle you baby -- is one of a kind. It's undoubtedly one of your most prized possessions, and you certainly treat it as such. You change its tires regularly. You bring it to the car doctor (our Miami auto service technicians) for routine check-ups. You may even tuck it in and give it a kiss goodnight on occasion. So why would you settle for anything but the best car wax, polish and coating to protect it from the big, bad world in which you both live?
The answer: You wouldn't. Whether you own a
Rolls-Royce Cullinan
or another vehicle that doesn't carry the same clout as a Rolls-Royce, keeping it in pristine condition is crucial. Ensure you're doing right by your vehicle and apply a good car wax after a wash, and you'll all but guarantee Father Time steers clear of your garage -- at least for a while.
How do you choose the best automotive wax, sealant, coating or polish? Are they all the same? Without trying them all, it can be difficult to know good from bad car waxes just by packaging. We've done the legwork for you. Here are some of the top car waxes, polishes and best ceramic coatings to give a go.
Critic's Most Recommended Car Waxes, Sealants & Polishes
If you own a luxury vehicle like a Rolls-Royce, the most expensive car wax is your best bet for unparalleled sheen. Migliore's Primo Premium Show Car Wax is that product. It's made of carnauba wax and myriad organic compounds, allowing it to return an awe-inspiring gloss while also ensuring it can be applied easily. It doesn't offer and protection value, however, but if you're only in it for the looks, there's no better car polish.
Pros:
50% carnauba wax
Easier to apply than other carnauba show car waxes
One of the best shines, hands down
Cons:
Very pricey (~$100/6 oz)
No added protection
Takes time to apply

The king of all car wax makes, Meguiar's, is hard to beat when it comes to protection, longevity and ease of application. Each one of their products is designed to produce high-quality results, regardless of the vehicle, color or climate. There's a reason why Meguiar's products, including this Gold Glass liquid wax, frequently top everyone's Best Car Wax lists. (However, if you're waxing a car in South Florida, you should be aware that this Meguiar's liquid wax may be difficult to apply due to our humidity!)
Pros:
Affordable (Under $20)
Available as liquid or paste wax
Consistent results
Easy to apply
Good protection on both clear coats and glossy paint
Cons:
Shine could be better
Over-application results in streaks or greasy appearance
Not as easy to apply in humid climates

Carnauba liquid waxes have come a long way since they were first introduced. Products like Mother's California Gold are easier to apply than paste and typically have good, high-gloss results. And with a sticker price below $20, Mother's is one of the most affordable car waxes that actually work as advertised.
Pros:
Excellent value
Decent shine and protection
Easier to apply than pastes
A little goes a long way
Cons:
Needs re-application every 2-3 months
Contents will expire/harden over time
Best results with a full auto detail

Although spray waxes aren't usually the best for protecting car paint, they are certainly the most convenient. Turtle Wax's Hybrid Graphene product is a great example that "usually" doesn't mean "always," as it offers an excellent level of protection against UV, chemicals and water spotting.
Pros:
Easy to apply
Surprisingly effective amount of protection
Touch-ups are easy to apply, too
Cleans exterior windows
Good final results
Can be applied in sunlight (though that's never recommended)
Cons:
Not the best spray wax for dark cars
Ceramic sprays offer more for the money
Will streak if you aren't careful and over-apply

No. 845 is an excellent liquid car wax due to its price and level of protection. Because it can be difficult to apply -- the wax must be warmed up prior to application -- this Collinite product is not ideal for anyone's first car-detailing rodeo.
Pros:
Inexpensive (~$20)
Decent protection
Long-lasting
Great wax for white cars
High-gloss shine
Cons:
Needs to be warmed before application
Overall application can be a pain
Not the best wax for black cars
This soft, hybrid car wax is equal parts paste and liquid. It blends carnauba wax, resin and polymers for easier application. It's ranked as the Best Overall Car Wax by CNET, the Best Soft Wax by Forbes, and the Best Budget Car Wax by Motor1.
Pros:
Affordable (~$20)
Available by the gallon
Can be applied to wet vehicle
Easier to apply than car paste wax
Good for beginners and professional detailers alike
Protects against UBA and UVB rays
Excellent shine
Cons:
Not the longest lasting car wax available
Needs reapplication every 6-8 weeks, or sooner in sunny environments
Very strong scent
Ineffective at repelling water
For the "old school" car owners, Griot's Garage Premium Carnauba Paste Wax should help you
wax
nostalgia (get it?). Packaged in a traditional can, this carnauba auto wax produces a high-quality finish while also protecting your vehicle from UV rays and water-beading. If you like the look of a smooth coat of paint, and you don't mind getting some exercise in, try a can 'o Griot's.
Pros:
Bright shine
Highest-grade carnauba (and high wax content)
Super-quick cure times (apply and buff in minutes)
Cons:
On the expensive side ($40+)
Wax sets up quickly, so you must also buff quickly
Car paste wax aren't supposed to be as good as P21S's Concours-Look Carnauba. P21S has created a long-lasting car wax that doesn't stain or streak, applies smoothly and uniformly, and provides first-class protection from the elements, both natural and man made. The one drawback? It's pricier than other paste waxes, though that's not a big deal since a few little dabs of P21S is really all you need for protection and shine that lasts months.
Pros:
No stains on rubber and plastic
Less likely to streak when buffing out
Superior protection
Smooth application
Cons:
Costs more than traditional canauba paste waxes
More difficult to apply in colder temperatures
May need to reapply earlier than similar products
Although it's not technically an automotive wax, Adam's Detail Spray is well worth its sub-$10 price. Above all else, it's incredibly versatile -- it can be used on glass, plastic, metal, and most other exterior automotive surfaces, has the ability to be utilized as a drying agent, and can even prolong a vehicle's current wax life. And while it's not the best car buffer, it can also be applied to prime buffer pads.
Pros:
Safe to use on all parts of car exterior, including glass
Easy to clean
Applies nicely after a car wash
Cons:
Can streak glass
Strawberry fragrance may make you queasy if you're sensitive
Does not do anything superbly
After waxing, apply P&S Bead Maker for even more protection and glisten. Recognized as one of the best car paint protection products and polymer sealants on the market, Bead Maker applies easily and wipes off even easier, providing you with a glamorously shiny exterior that beads h2o like it's no one's business.
Pros:
Unparalleled water-beading
Intense gloss
Easy spray-on application
Surprisingly good drying aid
Cons:
Lower durability means more frequent reapplication (6 weeks)
Attracts more dust than the average quick detailer, car paint sealant or polish
Can streak if applied incorrectly
Bear in mind, these are simply some of the top picks for car waxes, polishes, sealants and protectants. Everyone has their own preferences and opinions, and it's best to try a variety of products to find the best solution for you and your vehicles (or your employer's vehicles).
Wondering what paste, spray or liquid car waxes we prefer?
Call our Miami Rolls-Royce dealership
at (786) 577-5217 to talk shop or inquire about getting your
luxury vehicle professionally serviced
.
Rolls-Royce Motor Cars Miami
serves the entire South Florida region.