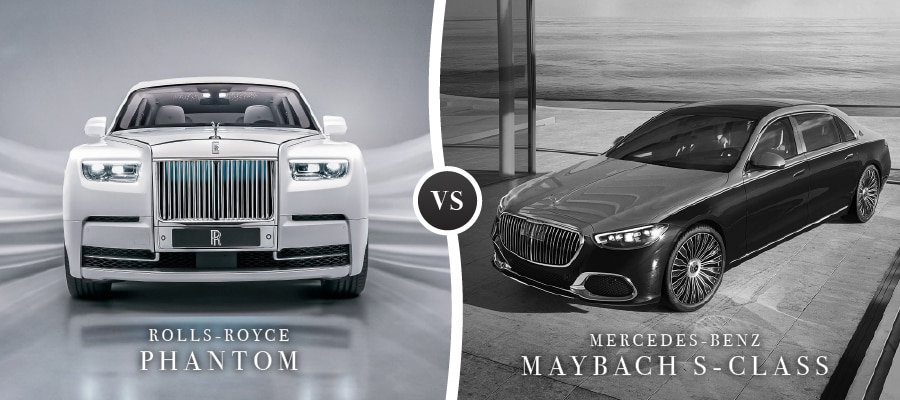 A class above the rest of the ultra-luxury car segment, the new Rolls-Royce Phantom (Phantom Series II) is like a thoughtfully constructed mixed drink. It's two parts old-fashioned design, one part modern aesthetic, a dash of superfluous yet useful tech and a twist of lime, shaken and poured—neat, of course—into one sexy, bespoke tumbler. It's... as perfect as super luxury cars get.
How, then, does a pseudo-ultra-luxury car like the Mercedes-Maybach compete against one of the best luxury 4-doors on Earth? It's an impressive high-end vehicle, to be sure, but is it really ultra-luxurious?
We don't want to call it pedestrian, but the Maybach is ostensibly a standard Benz S-Class luxury sedan, save for a few premium interior features to make it stand out from the rest of Mercedes's "S" roster. Essentially, apart from its optional two-tone paint job, you wouldn't notice anything unique or special about a stock Maybach if it rolled past you.
If your goal is to remain incognito and avoid glares, the Maybach S-Class is worth a shot. We have a feeling, however, that staying out of the limelight isn't your goal. That should automatically eliminate the Mercedes-Maybach from your list of ultra-luxury sedans to buy, leaving the Phantom as your optimal choice if you're to out-class the other ultimate luxe boxes at your country club.
Twice the Price? Twice the Opulence.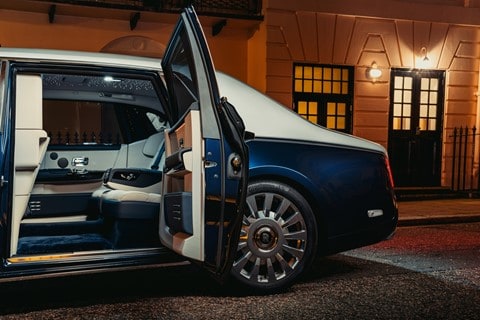 There's no sugar coating it: Yes, a commissioned, bespoke Phantom will come with double the price tag of a decked-out Mercedes-Maybach S 580 (or S 680). However, as the saying goes, "you get what you pay for."
The difference between the Rolls-Royce Phantom and the Mercedes S-Class Maybach is like the difference between a Rolex and a smartwatch. While the smartwatch (Mercedes) is more ubiquitously found in nature, it lacks the one-of-a-kind, world-class refinement inherent in a Rolex (Phantom) timepiece. Thus, you can expect to pay a king's ransom to breathe such rarified air.
Rolls Royce's organic and hyper-exclusive curb appeal is a big draw, but you're not just paying for a good-looking status symbol when acquiring the keys to Phantom. Compared to the three-pointed-star car with a Maybach nameplate, the new Rolls-Royce Phantom offers a great deal of "worth the extra cost" features and blingy accoutrements.
The Bespoke Factor
The front half of Maybach's cabin is a near carbon copy of any basic S-Class model. The back half, which is arguably the most important of the two halves, does come with a lot of high-end, five-star, chauffeur-y elegance. Hall mark add-ons for the Mercedes-Maybach S-Class include mini tablets and an entertainment system, drink holders, massaging seats, extendable tray tables and a refrigerator.
Hey, the Rolls-Royce Phantom can be equipped with all these Maybach features, plus much, much more! After all, there's a reason why Rolls-Royce is called royalty in the ultra-luxury sedan segment. With the Phantom, you can have your cake and certainly eat it, too, thanks to virtually unlimited bespoke options.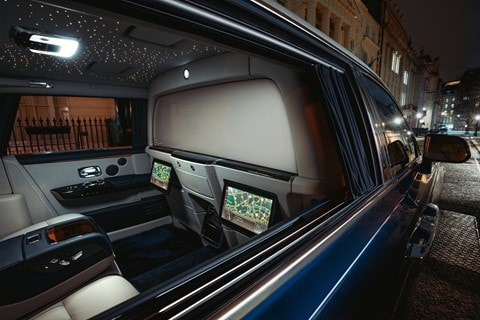 For instance: Did you know that you can order a Rolls-Royce Phantom with a special privacy suite, ultimately transforming it into a non-stretch limo? Well, you can! The Phantom Privacy Suite offers an electrochromic glass barrier to separate the front and rear seats, as well as an in-vehicle PA system for both sections to communicate. A full rear theater system, complete with two 12-inch HD screens, a premium audio setup, and a 20GB hard drive, also joins the list as a package deal.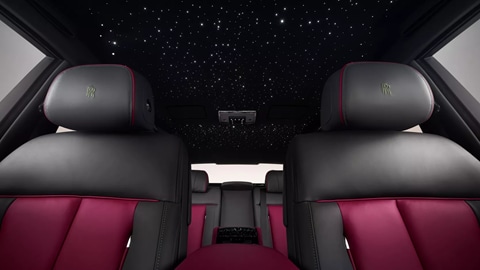 Let's not forget about Rolls-Royce's absolutely exquisite Shooting Star Headliner. Composed of hundreds of multi-colored, fiber-optic lights, each delicately placed within Phantom's leather-lined rooftop, the Headliner offers passengers a night under the stars, without that awful Mother Nature to contend with. It's as close as you can get to space travel without being a NASA astronaut or a Bezos-iate.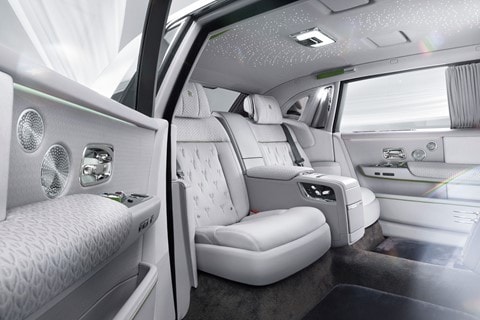 True luxury is personal. That's why Rolls-Royce has introduced even more fine textiles to their list of bespoke options with their Phantom Platino model. This bespoke ultra-luxury sedan features fine-leather front seats, a tone-on-tone interior utilizing both authentic Italian fabric and bamboo fibers, silken textures and embroidery, and 3D-printed ceramics. It's a certifiable work of art.
Raw Power & Performance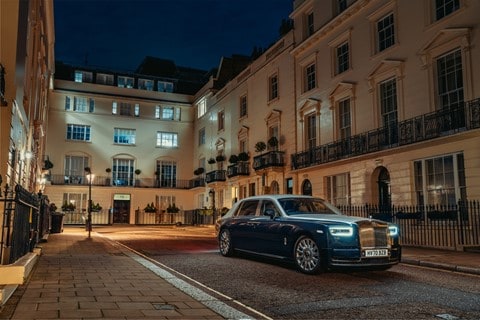 Maybach's poor ride quality has been noted by critics, such as Motor Trend's Scott Evans (no, not Chris Evans's brother):
"Capability aside, this is not a drivetrain programmed for high-performance driving. So muted is the throttle response, you'd be inclined to believe the Maybach substantially heavier and slower than the standard S-Class, not one step behind... Switching to the sport driving mode in a standard S-Class noticeably changes the character of the car, but not [in a Maybach]." - Motor Trend
That's on top of notable issues like inconsistent brake feel, delayed stopping power, uneven performance on inclines, and poor dampening. Some would excuse these issues as side effects of Maybach's weight – the Maybach S 580 tips the scales at 5,236 lbs. – though that begs one important question: Why does the heavier Rolls-Royce Phantom not share the same performance issues? The answer lies in their engines.
The Mercedes-Maybach does a lot well, but it does lag well behind the Phantom in performance. While the Phantom is powered by a 6.75L V12 (563 hp and 664 lb-ft of torque), the Maybach S 580 offers a less-spirited 4.0L V8 that produces 496 horsepower and 516 lb-ft of torque – 12% and 22% less than the Phantom, respectively. (Both vehicles have top speeds of ~155 mph, in case you're in dire straits and need to outrun the paparazzi.)
Build a Rolls-Royce Phantom in Aventura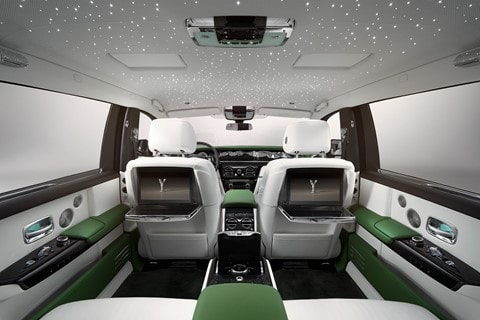 The lap of luxury is certainly warm and inviting, particularly if that lap's origin happens to be Kings Place in London (Rolls-Royce's HQ locale). If you'd like to live in that lap without flying to England, our Rolls-Royce dealership in Miami is your ticket.
Contact Rolls-Royce Motor Cars Miami at (786) 577-5217 to speak with our sales team about commissioning a Phantom or another ultra-luxury vehicle donning a Spirit of Ecstasy ornament. Our South Florida luxury car dealership serves shoppers throughout the region, including Aventura, Fisher Island, Kendall, Key West, and Miami.